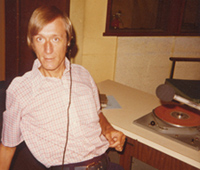 Dick McDonough - June, 1973


In late 1981, Steve Carlisle had a hit song with the theme from a popular TV show; listen to the end of the customized WDRC version.
Dick McDonough (left) spent just under ten years driving Hartford home every afternoon on WDRC AM. At the time, he held the longevity record for any personality since WDRC began pop music programming in 1960.
Here are the other on-air longevity leaders in years:
Brad Davis - April 11, 1977-April 2020 (43)
Larry Wells - October 1980-October 4, 2011 (31+)
Ron Sedaille - August 1985-July 7, 2014 (though not all fulltime) (29)
Mike Stevens - mid 1986-August 1, 2005 & May 20, 2006-July 7, 2014 (27+)
Doug Taylor - December 31, 1990-July 1996 & January 1997-October 10, 2008 (total 18)
Jerry Kristafer - August 9, 1982-December 5, 1997 & January 2008-October 4, 2013 (21+)
Grahame Winters - August 20, 2000-July 7, 2014 (14)
Jack Carney - March 1993-December, 2005 (12.5)
Dick McDonough - November 18, 1968-October, 1978 (10)
Ken Gilbert - late 1980-May 14, 1990 (9.5)
Walt Dibble - May 19, 1968-April, 1977 (9)
Floyd Wright - March 1983-February 1986 & August 2008-July 7, 2014 (9)
Aaron Shepard - June, 1961-May 30, 1969 (8)
Bob Marx - August, 1975-1983 (8)
Lon Landis - October 16, 1970-1977 (7)
Joe Barbarette - January, 1962-May 18, 1968 (6)
Ron Landry - April, 1960-March 5, 1966 (6)
Dick Robinson - March, 1964-November 9, 1969 (5.5)(Dick was on the air 5 1/2 years but remained in sales until 1976)