© 1999-2020
Man From Mars Productions
| | |
| --- | --- |
| Programming | |
While his time was relatively short at Big D, Joey Reynolds is one of the most fondly-remembered personalities. He was largely undisciplined on-air, frequently straying from the format to go off on a tangent. His stream-of-consciousness act showed early signs of the stand-up comic ability he employed later. Joey's characters included Captain Pumpernick, the crooked cop, and Jack Armstrong, the All-American weather boy.

| | | | |
| --- | --- | --- | --- |
| Joey's theme song is almost as well known as he is. It was recorded by the Four Seasons after he wrote the liner notes to their "Sherry" album. | | Joey's autobiography was published in early 2000 and is available for $17.45 plus S&H. Click on the book cover to order from Amazon.com. | |
While Joey Reynolds recorded and released several singles (for example, "Rats In My Room," and "Ma Bell You've Got Me By The Phones") before and after his stay at WDRC, there were other Big D-jays who recorded and played records.

There was also a special version of a Johnny Cymbal release (a sappy, early 60s version of "Rock & Roll Heaven") customized for The Friendly Five; the song was released on Kapp Records in May, 1963 and spent six weeks on Billboard's Hot 100 where it peaked at #58.
Not only did some of the deejays release records of their own, but the station released an
album of oldies in May, 1967 on Roulette Records (R-25347) called "Color Me OBG."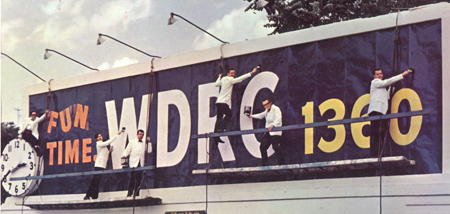 (L-r:) Joey Reynolds, Don Wade, Dick Robinson, Lee Vogel, Ken Griffin and Sandy Beach
click for enlargement