On August 6, 1938, Haase served as site engineer for a live broadcast from the dedication of the Arrigoni Bridge spanning the Connecticut River between Portland and Middletown (see photo at right).
In 1926, Walter bought his first stock in the Doolittle Radio Corporation. He eventually owned 20% of the company and was secretary of the corporation when the name was changed to Connecticut Broadcasting Company in 1947.
During the intervening years, Haase worked in all departments of the station including: building and installing equipment, operating, announcing, writing, program planning, and performing. He held the titles of Studio Manager, Program Manager and Station Manager as his career at WPAJ and WDRC evolved.
Starting in the late 1940s the company was anxious to expand into the brave new world of television. By the time WDRC submitted an application for a television license, Italo A. Martino was deceased. In 1953 three applicants were slugging it out before the FCC so Doolittle and Haase agreed to throw in with WTIC Radio to form one television company. Haase became the point man, closely observing New York television transmissions from his summer home in Branford, CT.
Unfortunately the effort failed and WDRC was sold to Buckley-Jaegar Broadcasting Corporation of Connecticut in 1959. His 35-year career came to an end on August third.
Walter had a second career as director of the Career Training Institute in Wethersfield. He enjoyed a summer home in Brandford and indulged his hobbies of woodworking, photography and home improvements.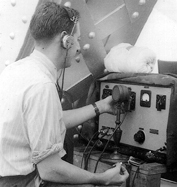 click on photo for enlargement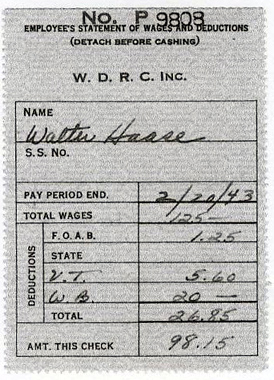 Walt Haase pay stub from Feb. 20, 1943