© 2010-2022
Man From Mars Productions
Danny Thomas
Teenage March
---
May in Connecticut meant the Danny Thomas Teenage March Against Leukemia for five years during the 1960s.

On May 19, 1963, the first of four annual fund raising campaigns was sponsored by WDRC in Hartford. Teenage fans of the Big D spent a Sunday going door-to-door asking for donations for St. Jude Children's Research Hospital in Memphis, a charity founded by the late comedian and TV star. The WDRC Friendly Five (in 1963) and, later, the Swinging Six deejays were on hand broadcasting live as thousands of sets of feet set off on their quest. Click here to read Danny's 1963 thank-you letter.

During the four years of WDRC's involvement, more than $225,000 was collected - the highest per capita of any city in the United States at the time.


Danny Thomas
During the 1940s, Danny Thomas, then a struggling young entertainer with a baby on the way, visited a Detroit church and was so moved during the Mass, he placed his last $7 in the collection box. When he realized what he'd done, Danny Thomas prayed for a way to pay the looming hospital bills. The next day, he was offered a small part that would pay 10 times the amount he'd given to the church.

Two years later, he prayed to St. Jude Thaddeus, the patron saint of hopeless causes, asking the saint to "help me find my way in life, and I will build you a shrine."

As Danny's career took off he made good on his promise, making plans during the 1950s for a unique research hospital devoted to curing catastrophic diseases in children. Faced with the need for funds for St. Jude's ongoing operation, Thomas turned to his fellow Americans of Arabic-speaking heritage. In 1957 they formed ALSAC®, the American Lebanese Syrian Associated Charities.
WDRC was so committed to the St. Jude's cause that weeks before the 1964 Teenage March, Earwitness newsman Aaron Shepard flew to the Tennessee hospital for a series of special reports. His moving account of what he saw appeared in the station's regular Hartford Courant column on April 26 (below right).

Participants in the Hartford march were always rewarded with a concert. Following the second annual Teenage March Against Leukemia on Sunday, May 3, 1964. Danny Thomas and singer Bobby Rydell staged two Big D Big Shows at the Bushnell Auditorium on May 31st to thank the 4,000 teens who collected $60,097.81.

The third annual March Against Leukemia was held Sunday, May 16, 1965. That year there were marches in Hartford and Middletown. WDRC's Dick Robinson broadcast live from the lobby of Hartford National Bank & Trust at Constitution Plaza, interviewing teenagers who were out collecting for ALSAC. The teens who raised the most money were treated to the Chubby Checker "All-Star Show" on June 2.


(L-r:) May 29, 1964 - WDRC news director Joe Barbarette,
account representative Mike Dreschler and Danny Thomas.

What's Doing 'Round Connecticut column - June 20, 1966

The fourth annual Big D Danny Thomas Teenage March Against Leukemia took place on Sunday, May 15th, 1966. The marchers collected $65,000. To thank central Connecticut for its continued support, Thomas headlined a show for the top 3,000 money raisers at the Bushnell on Tuesday, June 14th.

It's unclear why, but WDRC did not promote the fifth Annual Danny Thomas March Against Leukemia. Arch-rival WPOP sponsored the event in 1967 & 1968.

But WDRC promoted the Danny Thomas Teenager's Marches on Sunday, May 25, 1969 and Sunday, May 24, 1970.


Danny & Marlo Thomas

Thomas died in 1991 but his children, including actress Marlo Thomas, continue the work. For more information on St. Jude Hospital click here.

In the summer of 1997, as WDRC FM prepared for its 35th celebration of being a rock station, the Danny Thomas audio was pulled out of the archives for this promo voice by legendary New York talent Dan Ingram.
---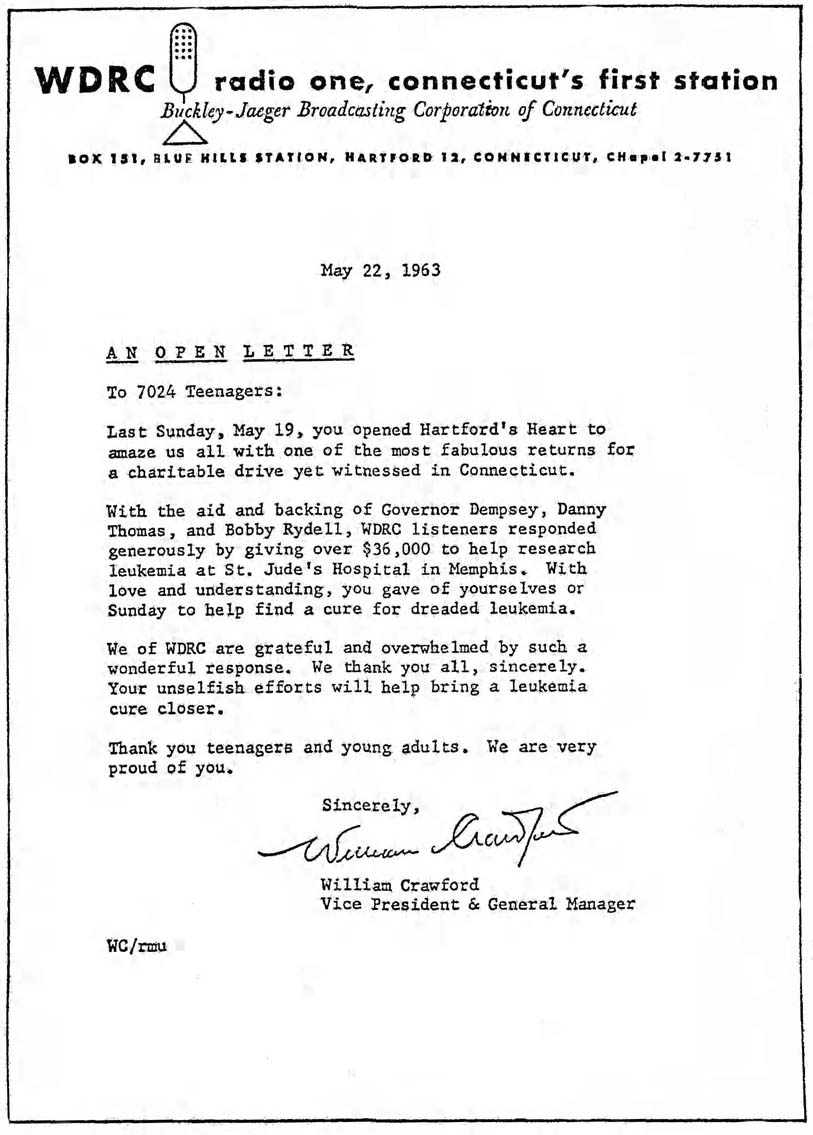 The Hartford Courant - May 22, 1963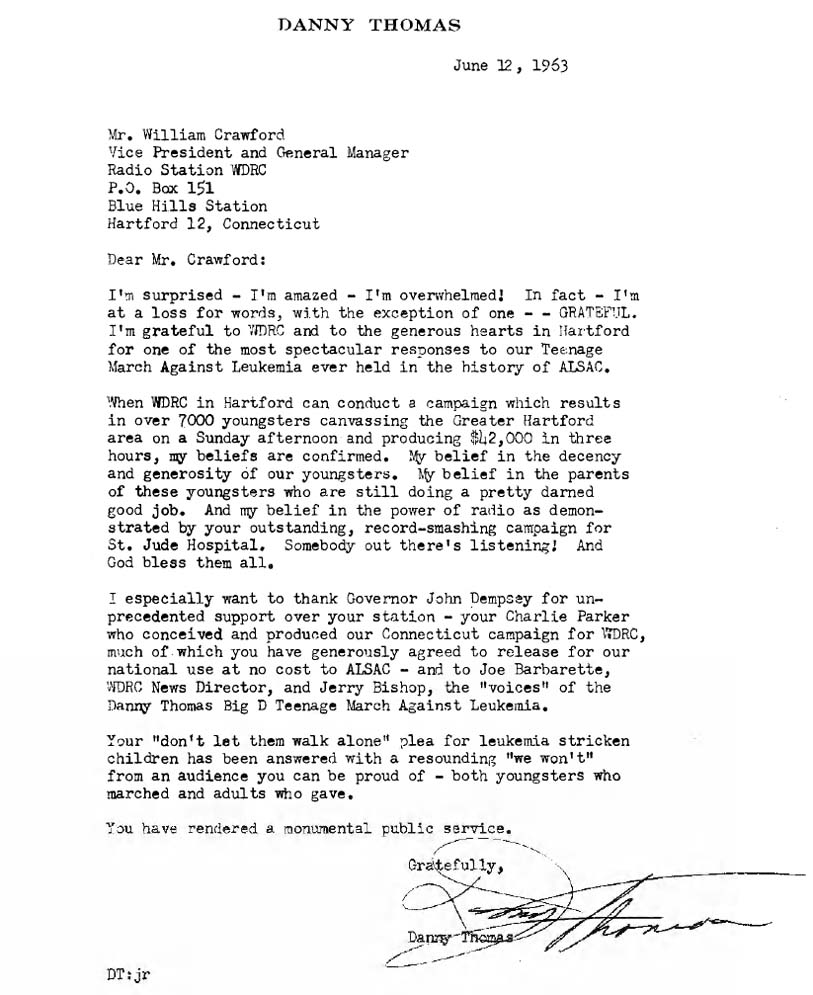 Broadcasting Magazine - July 8, 1963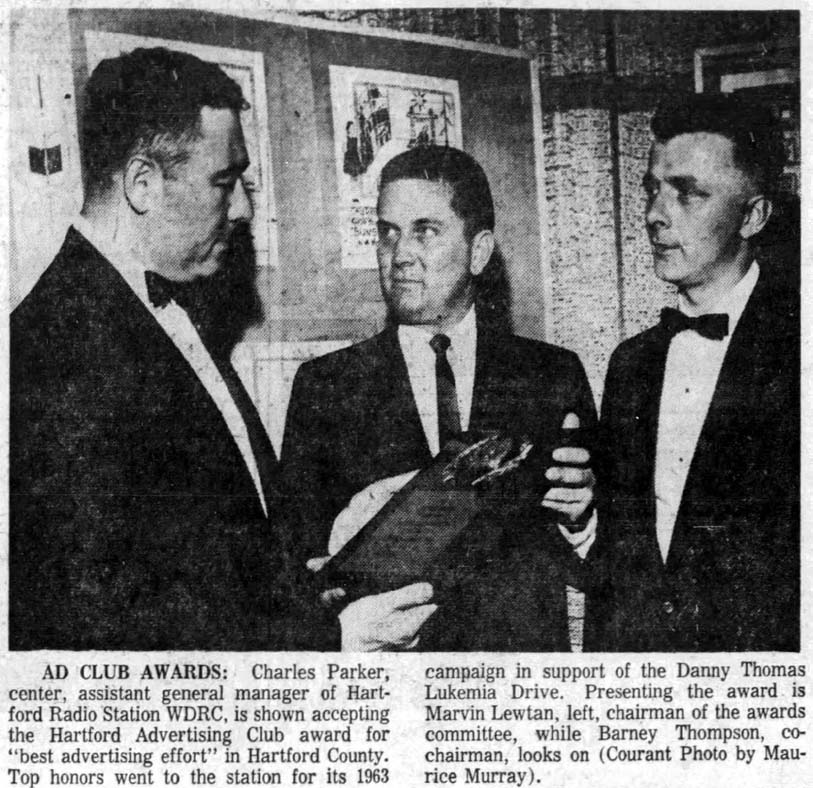 The Hartford Courant - May 12, 1964