WDRC climbed on the Beatles Bandwagon with a series of fun and innovative promotions:
February, 1964 - Twenty-five Beatle Wigs were awarded for correct answers to the scrambled fun phrase: "Valentine for I like would four one the Beatles my of."
May, 1964 - Beatle Wallpaper was won by Cindy McLean of Simsbury for making the closest guess to the number of signatures listeners produced for a Dick Robinson Beatles petition contest (there were 60,200 actual names).
May, 1964 - Twenty-five listeners 25 won Beatle ball-point pens for guessing the total age of The Swinging Six (154).
June, 1964 - A Beatlebike contest drew 12,000 pieces of mail (right).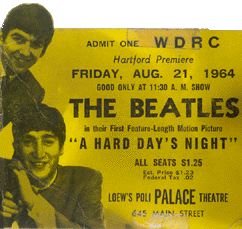 click for enlargement; courtesy of Marianne Chrystalbridge