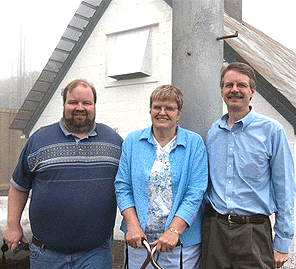 (l-r:) Grandson Pete Johnson, Doolittle's daughter
Lydia Johnson, and grandson Paul Johnson
On June 25, 2006 several descendants of Franklin M. Doolittle had the opportunity to visit Meriden Mountain in Connecticut to see where his early experiments in frequency modulation broadcasting took place.
Doolittle conducted his first tests there in 1936, later securing an FM license for W1XPW in 1938. The station had a succession of call letters (W65H, WDRC FM and WFMQ) and Doolittle sold it in April 1956. The current day occupant of the facilities is WHCN, owned by Clear Channel.
To see more images from Meriden Mountain click here.
Click here to view Pete Johnson's web site.
Pete Johnson writes, "There's been some talk about erecting some sort of historical marker at the base of the original tower and/or down in the park below, to let people know the role the site played in the history of terrestrial radio." You can contact Pete by clicking here.