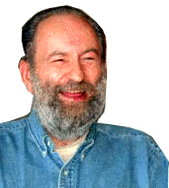 One of WDRC's Friendly Five, Long John Wade, passed away on Wednesday, May 15, 2006 at the age of 66. These pages contain a great deal of information about John, who was one of the few American disc jockeys who genuinely knew The Beatles.
Long John had radio in his blood. To the right is a picture of him at the mic at New Hampshire's New Hampton School in 1958. Right out of school he landed a job spinning the hits every night at WHIL in Medford, MA.
For more on those days click here. To read the biographies of John, and his Big D other brother, Don, click here.