"...After giving out warnings March 18 that the Greenwood Dam at New Hartford, Conn., had let go,
WDRC, Hartford dispatched a crew to the scene of the disaster. An emergency hookup was completed
and the story told from a bridge spanning the river at Unionville, a few miles below. WDRC later sought
FCC permission to transfer its programs to WNBC, New Britain, according to a message phoned to
Yankee headquarters by Franklin M. Doolittle, president of WDRC...."
"...WDRC, Yankee station at Hartford, Conn., closed down at 8 p.m. March 20 when power failed...."
- Broadcasting magazine, April 1, 1936, p.9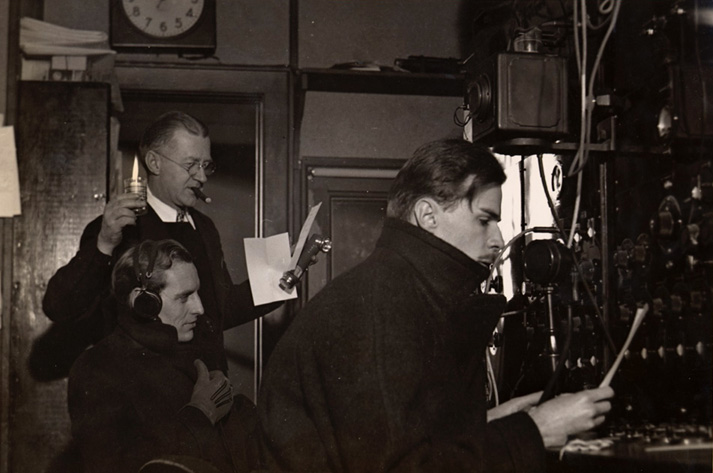 EMERGENCY AT WDRC - Working by candlelight and shivering with cold, the Hartford
station's crew stayed on the job during the flood's washout of the local power
service. Standing holding candle, Sterling V. Couch, program director, seated
left, Perry Brumfield, operator, and Harvey Olson, announcer.
Power for transmitter came from emergency batteries.
- Broadcasting magazine, April 1, 1936, p.56