In any industry, claiming to be first is dangerous. One must be precise in defining the meaning of first. In the case of WDRC, promotional claims have been made that it is Connecticut's first radio station. But evidence indicates it clearly was not.
This is the story of Connecticut's very first broadcasters and it dates to a time before the radio business, as we know it today, had been truly defined.
In the early 1920s radio was primarily a means of one-on-one communication. The most common form was ship-to-shore communications, by which merchant vessels informed their owners when they would be arriving with a load of cargo at various ports. During and after World War I, naval ships expanded the use of radio communication for military purposes. During this era there were many licensed amateur radio operators who essentially experimented with the medium by contacting each other over long distance wireless. One of these licensed operators was Franklin M. Doolittle of New Haven, who received a license to operate 1GAI as a general amateur station in February 1920. Doolittle, of course, founded WPAJ in 1922 (renamed WDRC in 1925).
By 1920 government regulators realized the need for further definition of classes of radio stations. Amateurs were licensed to run special land stations and business concerns were licensed to operate commercial land or commercial ship stations. As it became evident that there might be a niche for mass communication to the general public, in September 1921 a new class was created - broadcast stations, that offered scheduled programs of information and entertainment on one of two frequencies: 360 or 485 meters.
Connecticut had many amateur operators starting in 1915. One of them was Clarence Denton Tuska. He graduated from Hartford High School in 1915. By 1916 he was secretary of the American Radio Relay League in Newington while attending Trinity College. The 1920 U.S. Census for Hartford lists Tuska's occupation as "radio engineer, manufacturing company." From 1922-25 he manufactured Tuska radio receivers. By 1930, Tuska was a husband and father; the family lived in Philadelphia and his occupation in the U.S. Census was listed as "engineer, radio industry." In 1942 Tuska registered for the draft. He was listed as a 46-year-old Philadelphia resident employed by the Radio Corporation of America in Camden, NJ. Tuska died on July 1, 1985 at the age of 89.
In the early 1920s, Franklin Doolittle was also manufacturing a line of radio receivers which he sold from his New Haven workshop while operating WPAJ. Yet a third line of radio sets was manufactured and sold in New Haven - those made by Alfred Carlton Gilbert, who received a license for a special land station in December 1919 - two months before Doolittle received his amateur license.
| | | |
| --- | --- | --- |
| A.C. Gilbert | Ironically, Gilbert and Doolittle were contemporaries; Gilbert was born in Oregon in 1884, Doolittle in Connecticut in 1893. It is unclear if they were acquainted but their career paths had similarities. Both graduated from Yale University...both were inventors... both obtained patents (Gilbert obtained 152!). But Federal Radio Commission records indicate C.D. Tuska beat them both, obtaining Connecticut's first commercial land station license for WQB in Hartford on September 1, 1921; it was short-lived. | Franklin M. Doolittle |
Gilbert was almost a bigger-than-life character. In 1908, he won a gold medal in the pole vault at the Olympic games in London.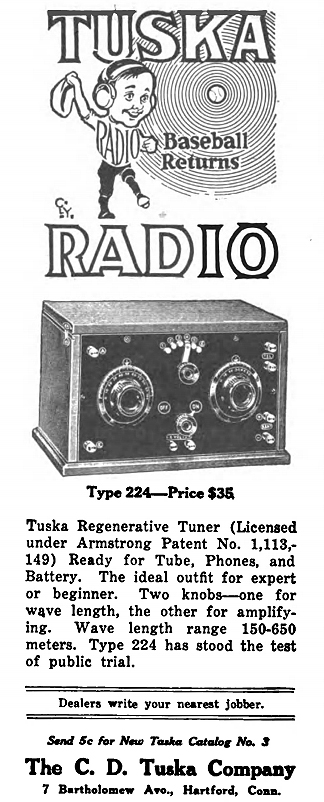 Tuska advertisement in September 1922
issue of Radio Broadcast magazine.